WHAT ARE YOU DOING? WHAT CAN WE LEARN TO DO IT BETTER?

We celebrate the innovation sparking ideas and collaboration that improves IT Service Management capabilities.
We stay connected to ideas and support strategies; juggling remote support resources, managing new high-volume transformative work-from-home issues, keeping critical systems online, service levels stable, major incidents managed, and team members connected, communicated, and supplied with the availability and data to drive their business.
IT Service Management (ITSM) process is delivering proactive value to the business, our customers or end users.
ITSM support and services face new challenges on the front lines of the COVID Crisis.
Artificial Intelligence, Machine Learning, Automation can save money, and free resources for continuous improvement.
Organizational Change Management, Training, Knowledge Identification and Management is essential evolution.
EVENTS
TOPIC: What Are You Doing in 2022 — Setting Your Guideposts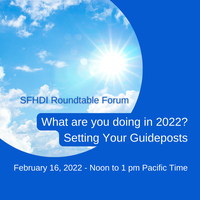 KICK OFF: Phil Verghis from Klever Insight will get the conversation started by sharing the basics of setting guidepost statements.
AGENDA
11:30 — Networking and Introductions
11:55 — Welcome and Announcements
12:00 — Topic Presentation with Phil Verghis
"What are you doing in 2022 — Setting Your Guideposts"
12:10 — Breakout Room discussions
12:55 — Closing & Door Prizes
This event is free for everyone, but our work is funded by our members. Not a member? Join here.
---
San Francisco Bay Area IT Service Management Seeking Volunteers and Event Sponsors
COVID took such a huge hit on the San Francisco Bay Area IT Service Management Professionals. We are here to serve our local, national and worldwide conversations about now and best practices and principles for the future.
ITSMF USA | ITSMF San Franciscio | LI ITSMF USA | LI ITSMF SF Bay |
WHO DO YOU KNOW WHO CAN HELP? We are seeking a few more volunteers to help us relaunch our hosting of great host events, find sponsors, and provide member outreach for our San Francisco IT Service Management Forum Local Interest Group. Please contact Dawn Simmons (Khan) if you are interested in volunteering a few hours (5-10 a month) to organizing events and membership value best practice collaboration opportunities. Also contact Dawn if you are interested in serving on a board or sponsoring a virtual event (in person when COVID settles down).
---
TRENDS
Global Data Protection is a global concern with regulatory implications for failure to control data processing practices. Brazil, European Union, Thailand, Turkey, USA California Consumer Privacy Act. The big news now is China's PIPL and DSL policies.
China's New Data Security Laws on Global Tech Sector Implications
China's new Data Security and Data Privacy Laws will have sweeping impact on companies who partner or have business in China.
What do these laws mean for Multinational Companies? China based CIIOs and non-CIIOs are prohibited from providing any data stored in China, regardless of the data's sensitivity level and whether or not the data was initially collected in China, to any foreign judicial or law enforcement agency without the prior approval of the relevant PRC authorities.
More difficult to obtain and accumulate User Data in China or by China.
Digital Marketing impacts will be impacted, rendering precision advertising ineffective in China.
Mobility Service Providers will be unable to offer differentiated pricing due to regulation on profiles and China's National Security Policy
China's Public Cloud domains are required to transfer to China Government- State owned systems.
Facial Recognition AI features will be prohibited affecting in car autonomous driving services.
Short video regulations and requirements for specific algorithms may impact user experience, and certainly ecommerce personalized recommendation accuracy.
High volume Chinese based Internet Service Providers with more than 1 million users, planning to relocate to ISP Operations to the USA would have to reconsider.
---
Cyber Security Partnership with IT is essential
SUPPLY CHAIN: 2022 continues threat of software supply chain attacks to cyber and ransomware attacks to the whole supply chain lifecycle including distribution channels, shippers, carriers and suppliers. It is having impacts on higher prices, more delays in shipping, availability of products.
The Cyber threat targets software developers unprotected server infrastructure, and unsafe build processes. The Software Supply Chain is disrupted by malware secretly installed, with no visibility to the Supply Chain manager is to identify the compromised system vulnerabilities. Microsoft explains how this is done. The takeaway from this underscore the critical importance of several ITSM disciplines to be able to catch up with the present vulnerabilities that face companies of all sizes and types:
Incident Logging and Accurate troubleshooting and closure techniques in all tickets.
Major Incident detection and management plans to act upon information.
Problem Management to raise issues and Incident Profiles that allow analysis and remediation.
Good Change Management Discipline to make sure code is tested and released with a good plan and security review where necessary.
This goes to the last critical element. A well working CMDB that can tell us in the moment of a Cyber Security Breach, Incident, Major Incident, or Change, what the up and downstream impacts might be and allow us to manage the threat with limited breach.
---
OTHER NOTABLE NEWS AND RESOURCES IN BULLET POINTS
NEWS AND VIEWS
Dawn C Simmons
LinkedIn | Facebook | Twitter |Pinterest BPC, IT, SecOps
---