Andrea Benito, editor of CIO Magazine wrote about CIO50's award record-breaking pool of nearly 90 Middle East CIO nominees. The competition analyzed leadership and innovation, ranking and awarding the Middle East's top 50 CIOs at the IDC Summit 2021 for their roles in driving innovation, strengthening resiliency, and influencing meaningful, rapid change.
How delighted to see Jason Roos, KAUST CIO, won #7 Top leader in the Middle East by CIO50 at the IDC CIO Summit 2021.
Now more than ever we need Information and Innovation leadership to create new solutions to the challenges of our Post Covid Technology Era. I will be exploring other CIO leaders of interest from this award who are producing and leading ideas that reimagines digital transformation, health, wellness, automation, and business.
It is my pleasure to share the story behind the story of how and what people are doing to make a difference. Let us explore and share what makes them our most influential leaderships.
The Top 9 highlights:
Osama Alswailem, CIO at King Faisal Specialist Hospital.
Ahmad Yahya, CIO at American Hospital Dubai.
Khrisnan Gopi, Chief Disruption Officer at GEMS Education.
Arturo García, Chief Automation Officer at Abu Dhabi Terminals.
Praveen Sashi, Senior Director of IT & Logistics, Regional Head of Digitalisation at DHL Express.
Yahyah Pandor, CIO at Fine Hygienic Holding.
Jason Roos, CIO -King Abdullah University Science & Technology (KAUST)
Yuri Misnik, CIO at First Abu Dhabi Bank.
Damian O'Gara, IT manager at Kentech Group.
---
Kicking off this Blog Series I will begin with the Middle East CIO50 with their ranked #7, who is my rank #1 Global Leaders. Imagine my delight to discover Jason Roos, most Influential Chief Information Officer in I have ever worked with, in the top 10 of CIO50.
CIO PROFILE: Jason Roos
Jason has an uncommon vision for how to connect people, products and technology for meaningful digital transformation.
CIO- King Abdullah University of Science and Technology (KAUST)
KAUST SMART solutioning begins with a structured design story oriented thought process that ultimately leads from a proof of concept prototype, to build and deployment within the KAUST ecosystem.
What does that KAUST SMART organized process look like in practice?
KAUST SMART starts with an idea and question: "Could we produce a more sustainable and ecofriendly transportation in our community?" The approach and vision was explored. Prototyping was underway, and a 6 month test for refinement and controls developed the solution.
This project journey by King Abdullah University of Science & Technology, I&ED, and Community Life is a fine example of KAUST solution leadership delivery of sustainable future transport, mobility solutions, with digital innovation.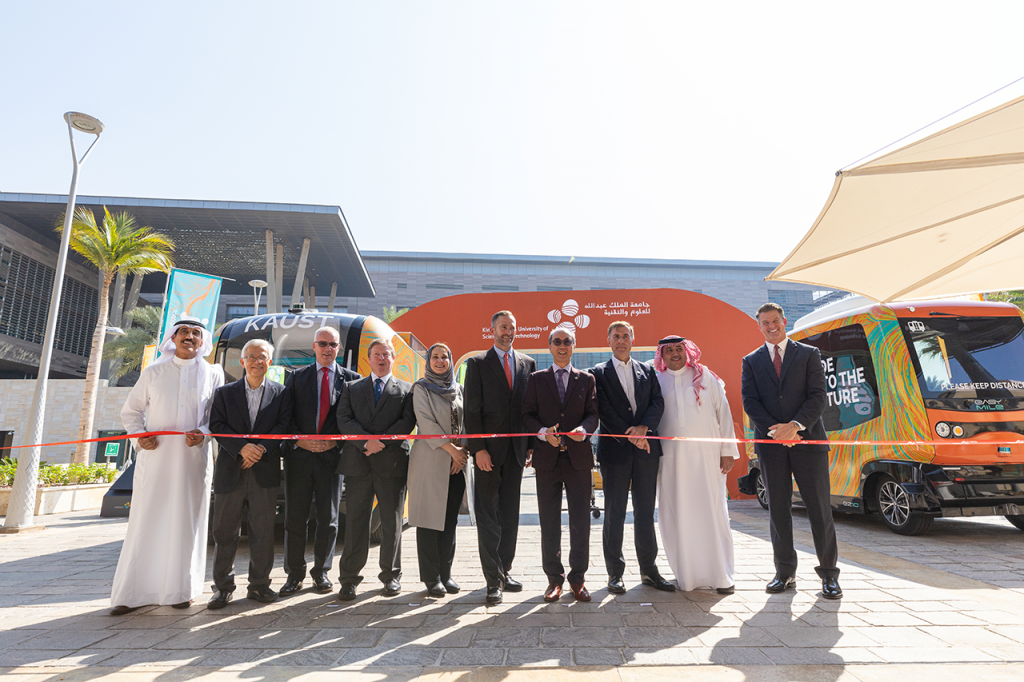 The result of the KAUST SMART INITIAL QUESTION was Saudi Arabia's first self driving bus for campus transportation. A fully electric, more sustainable form of transportation in the community. This example is just a start of King Abdullah University of Science & Technology, CIO, Jason Roos vision for continuing to produce immersive smart digital solutions that deliver serious business value:
2 Driverless Shuttles, Autonomous busses named Olli and EZ10.
100% Eco intelligent, environmental friendly -zero petrol with electric energy batteries
Artificial Intelligence location based mapping, response technology, and cognitive sensing.
Leverages advanced Light detection, ranging (Lidar), for self driving accident avoidance systems
The result was a successful launch of Saudi Arabia's first self-driving vehicles
The autonomous affordable, AI powered, all electric transportation solution, fit into a larger vision of a "Smart City" experience. My favorite question to ask Jason, how are you influencing digital transformation now?
KAUST Smart is working on many initiatives ranging from autonomous vehicles and drone delivery, to unified city app providing complete information dissemination, unified communications, e-payments, and complete immersive location awareness, combining both indoor and outdoor precision.

~Jason Roos
Prior to KAUST , Chief Technology Officer and Vice President in several leading Healthcare and Medical Research Centers:
CA- LOS ANGELES: City of Hope National Medical and Cancer Research Center City of Hope

Leader in advancing cancer research and treatment
"Best Hospitals" in cancer treatment by US News & World Report

CA- PALO ALTO: Stanford Health Care & Stanford University Medical
C LEVEL LEADER RESOURCES:
Dawn C Simmons LinkedIn | Facebook | Twitter |Pinterest – CxO Leader