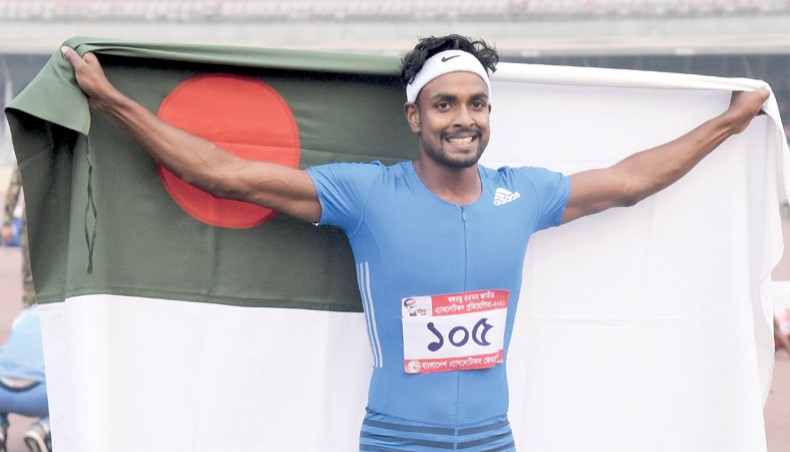 It is a very exciting week when someone you love works hard and accomplishes a lifetime goal. This week was that week for my Jahir Rayhan who has been selected to participate in the Tokyo Japan Summer Olympics 2021!! The Bangladesh Athletics Federation announced this week that they have selected Bangladesh's famed athlete Mohammad Jahir Raihan, to represent Bangladesh in the 2021 Olympics in Tokyo Japan. Based upon his performance at National and Global events, Jahir will compete in the 400-metre run in the athletics event in the esteemed Japan Tokyo Olympics.
Japan has a reputation as a revolutionary host of epic Olympic Games after years of planning, at least $15.4 billion in organizing costs. As the Games approach, mounting tension and outstanding questions remain around COVID-19 and the international rollout of vaccines due to the global pandemic. Costs have increased due to that and the one-year postponement, the 2020 Tokyo Games, that if they continue, are now just 64 days away.
Tokyo Japan Summer Olympics is the most Expensive in History
Tokyo Japan Summer Olympics has already proven to be the most expensive Summer Olympic Games ever known. The opening ceremony and competition is set to kick off July 23 and run through August 8. The Paralympics are slated to follow shortly thereafter, from Aug. 24 to Sept. 5. The 3rd wave of the Covid Pandemic has challenged the 2020 Olympics, moved to this summer, starting in July, excitement and a mounting volume of anxiety over the costs and whether the games can proceed.
Covid Pandemic:

Athletes participating in Tokyo Olympics
The world Olympics being postponed have complicated matters for Athletics on the global stage. The COVID pandemic has exponentially multiplied matters.
Postponed a year ago, athletes continue to train and stay ready. The Summer Olympics typically attract over 11,000 athletes from over 200 countries. Olympic event hosting is a huge advertising and tourism event when not in the midst of a pandemic. Attendance from areas particularly badly impacted by COVID will most certainly be affected. Here is how the Athletes COVID management will be handled during the Olympics:
All participants are required to take two COVID-19 tests with 96 hours of their flight to Japan.
Athletes and service providers to the Olympics in contact with athletes are tested daily to mitigate risk of undetected positive COVID cases.
Athletes must depart Japan within 48 hours after competition elimination or sport conclusion if they reach the finals.
All Games participants and staff are tested daily for three days after arrival. and regularly tested throughout their stay, based on the operational nature of their role and level of contact with athletes.
All Games participants must exclusively use dedicated Games vehicles and are not allowed to use public transportation.
All Games participants must eat only in the limited locations where COVID-19 countermeasures are in place, including catering facilities at Games venues, restaurant and their rooms, using room service or food delivery.
Bangladesh Athlete: Jahir Rayhan:

Why I am particularly Excited about these Olympic Games
I love to see people train hard, strive big, and make a difference. As a country, Bangladesh has yet to win gold at the Olympics. Yet a golden Bangladesh rises with an incredible and growing list of world class athletes taking form. The three most notable athletes are:
Shirin Akhtar is the fastest woman in Bangladesh, with a best in the women's 100m sprint with a timing of 11.60 seconds.
Mohammad Ismail is the fastest in the Men's 100 -metre sprint with a timing of 10.50 seconds.
Mohammad Jahir Raihan broke a 32 year record as the fastest runner in the history of Bangladesh 400- metre sprint with a timing of 46.86 seconds. Jahir was a 4 time gold medalist in the 44th Bangladesh National Athletics Championship, and now serves as a member of the Bangladesh Navy.
COVID 19 Center of Excellence | Global Professionals Jobs/Careers Success Network | Global Recruiters Network | Global Education Study Abroad Network