What has changed from Rome Performance Analytics
ITSM Workforce Optimization now includes productivity enhancements for shift scheduling, forecasting, teams, and improved coaching. Workspace environment now centrally locates performance reporting.
Shift Planning lets you track schedule adherence, can add all shifts and work shift view when checking in and out, login time slots etc. You can view all member schedule, manage shifts and filter by assignment groups for agent coverage. They can work within a team for swaps and shift coverage.
CSM: COVID Vaccine Administration Management Metrics have been added
CSM classic dashboard has a Vaccine Administration Dashboard Provider Admin while administering vaccine, schedule completed and no shows, by vaccine, center, date, and clinician. The metric can filter by type of vaccine type, shots, dose date 1 and 2.
ITSM Schedule Adherence and Conformance Metrics
How closely are agents complying to their scheduled shift? The KPI Reporting for Schedule Adherence graphically displays the minutes worked in a shift/ (schedule shift + overtime)
Conformance provides the(Minutes worked in a shift + Overtime shift) /(Schedule shift in minutes).
ITSM Coaching
Visual view of assessments over last 30 days and how those skills are completed and covered within your team. You can view an average quality over the past 30 days. You can also view and act on overdue training.
Added an overview drill down by teams to see how many users have been assigned the skill, what is the coverage for a given skill, get more experts related to that and for the assigned skills and what are the MTTR for that skill.
---
Metrics Challenge Question
Here is the use case I asked on ServiceNow Community. Call Center Agents are adding notes that serve to provide updates, queries and requests for escalation to tickets where they are not a member of Assignment Group, nor are they the assigned to. I will share my findings. If you have ideas, please share!
What are the best practice metrics for Call Center Work Time?
How do you measure a call center agent's time worked across a batch of tickets they do not own
The best answer to how to do this came from ServiceNow Community Maik Skoddow who directed me to the "Time Worked" component and JIT Subject Matter Expert, Marc Romero who explained the best practice approach is by extending the "Time Worked" component, to the Incident from the base Task table. Then, a system-generated timer can be enabled that automatically calculates the viewed/worked on time that a ticket, storing the time worked record in a related table that can be reported on by user, including the time worked by a user other than the Assigned To/Assignment Group.
---
Cool Reporting Insight: #ServiceNow Reporting – Pareto Charts
Robert Fedoruk puts sizzle in transformation even in numbers. Loved this blog of why Dr Kaoru Ishikawa viewed Pareto Analysis as one of the 7 leading tools Quality Tools. Pareto Analysis helps organizations to understand where effort should be concentrated/prioritized with regard to finding resolutions.
The Pareto principle asserts that understanding that roughly 80% of consequences come from 20% of causes. The analysis of which helps you identify the root causes of where the largest issues are, and identify solutions to resolve them.
Here are a few examples of use cases for Pareto Charting
What are the root causes of the highest incidents submitted by our users?
What group, or individual submits the highest volume of Incidents to our ServiceDesk?
What are the greatest knowledge gaps for our new implementation and how can we improve the experience?
Robert walks you through the concept of why to use Pareto Charts below: Here are Instructions for How to Create and Style Pareto charts in ServiceNow.
Excellent Example of Pareto Quality Driven Analytics:
Taking the logic from Robert Fedorik and applying it in modern world use cases, here is an example from the NSW Goverment shared their Clinical Excellence Commission use of Pareto Chart Analytics to determine the Vital Few Error Types that can make the biggest difference in Quality Improvement.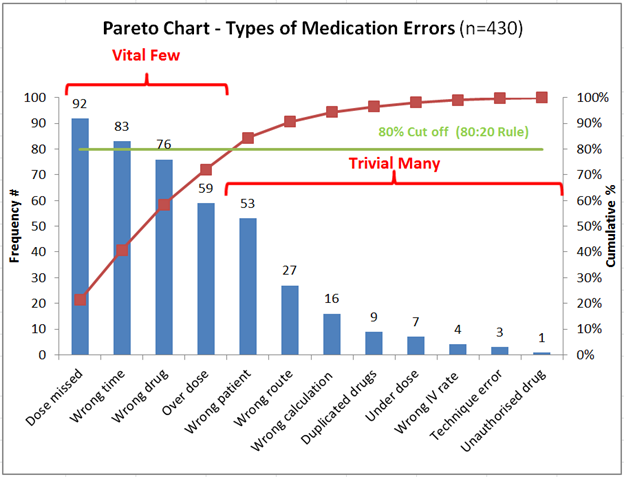 ---